Monthly Market Insights | January 2018
US Markets
Stocks closed out the year on an upbeat note, as investors focused on positive economic news and tax reform legislation.
Stocks closed out the year on an upbeat note, with the Dow Jones Industrial Average rising 1.8 percent, the Standard & Poor's 500 Index gaining nearly 1 percent, and the NASDAQ Composite picking up 0.43 percent.1
For the year, the Dow added 25 percent, the S&P 500 19.4 and the NASDAQ Composite 28.2.1
After a choppy start to the month, the Dow and S&P 500 both reached record highs, buoyed by a strong employment report and growing prospects for the passage of a tax reform bill. The tech-ladened NASDAQ Composite trailed the overall market, however, as investors rotated out of some technology holdings.
Tax Reform
Upward price momentum continued as tax reform cleared one legislative hurdle after another, sending large-cap indices and the NASDAQ Composite to fresh record highs. Prices began a small retreat as the holiday weekend approached and trading volumes sagged.
Holiday Sales
Early holiday-season sales reports generated some attention on isolated individual stocks, but the final week of the month generally saw prices drift on low volume, bringing a quiet close to another positive month for stocks and capping off a strong year for the stock market.
Sector Scorecard
The majority of industry sectors ended higher for the month, led by Energy (+7.03 percent), Financials (+4.58 percent), and Industrials (+4.39 percent). Gains were also posted by Consumer Discretionary (+3.68 percent), Consumer Staples (+2.99 percent), Health Care (+0.91 percent), and Materials (+2.54 percent). Utilities suffered sharp losses (-6.62 percent), while Real Estate (-1.73 percent) and Technology (-0.65 percent), slid less dramatically.2
What Investors May Be Talking About in January
In the month ahead, investors are expected to keep an eye on fourth-quarter earnings, as well as the initial estimate of the fourth-quarter gross domestic product (GDP), scheduled for release on January 26.
Last quarter, negative earnings surprises were met with swift action by investors. Companies that missed their earnings estimates lost 3.5 percent over the two days preceding and following that news, much higher than the historical average of 2.4 percent over this four-day span.3
Investors will also be looking for signs of the durability of the economic expansion. The economy has posted growth rates above three percent in the last two quarters -- the first time since 2014 that it has enjoyed consecutive quarters of three percent or higher growth.4
This is what makes the estimate of fourth-quarter GDP so highly anticipated. Will the report suggest an economy reverting to its recent history of sliding back to a more tepid growth rate, or will it imply that the U.S. economy has potentially shifted into a higher gear? The answer may determine how investors begin to perceive the prospects for stocks in 2018.
World Markets
World markets moved higher, as the MSCI-EAFE Index advanced 1.15 percent in December, closing out the year with a gain of 21.3 percent.5
European stocks were mixed, with the U.K. and Switzerland moving higher, while other major markets, such as France and Germany, drifted lower.6
The Pacific Rim markets performed better, led by Australia and Hong Kong Japan squeezed out a small gain of 0.2 percent.7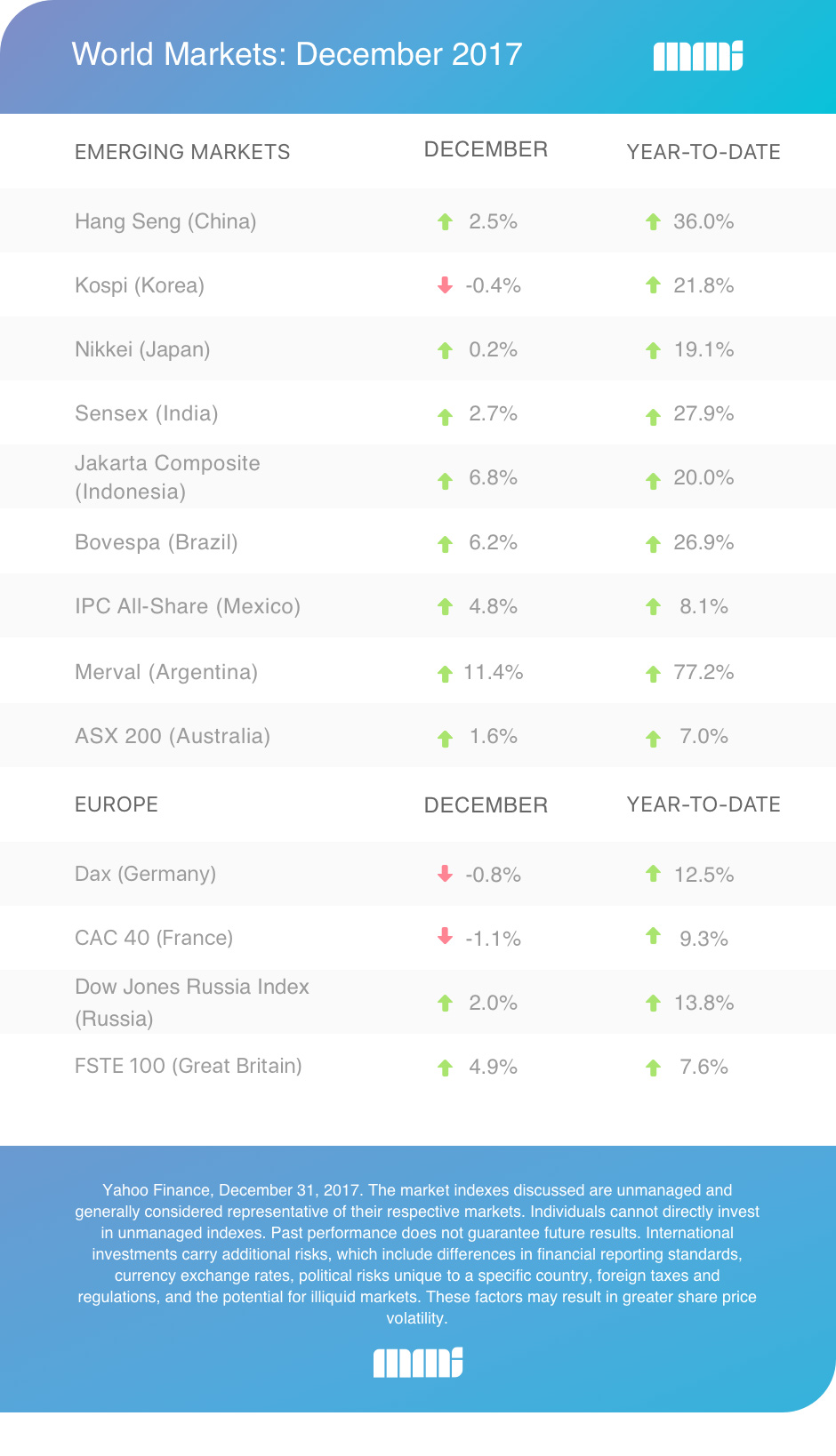 Indicators
Gross Domestic Product
Economic growth in the third quarter was revised down from a 3.3 percent annual rate to 3.2 percent due to a revision in consumer spending that turned out to be a bit softer than prior estimates.8
Employment
Job growth was strong in November, as nonfarm payrolls rose 228,000, leaving the unemployment rate at its 17-year low of 4.1 percent. Wages improved a bit (higher by 2.5 percent from last November), but the growth rate remains below its pre-recession pace.9
Retail Sales
Retail sales rose 0.8 percent in November, signaling a solid start to the holiday season. In comparison to last November, retail sales were 5.8 percent higher, the largest November year-over-year increase since 2011.10
Industrial Production
Industrial production added 0.2 percent, owing to the post-hurricane recovery of oil and gas. The latest figure was a modest jump from the previous month's production levels, but represented a 3.4 percent gain over November of 2016. October's 0.9 percent increase was revised higher to a 1.2 percent gain.11
Housing
Led by single family home building, especially in the South and West, housing starts jumped 3.3 percent, reaching their highest level in more than a year.12
New home sales soared 17.5 percent, a rate of increase not seen in over a decade.13
Sales of existing homes clocked in at their fastest pace in more than ten years, jumping 5.6 percent in November.14
Consumer Price Index
Energy prices spiked last month, sending inflation higher by 0.4 percent. However, when excluding the volatile energy and food components, inflation was a more subdued 0.1 percent in November. Price increases from November 2016 were a modest 2.2 percent.15
Durable Goods Orders
Orders of durable goods rose 1.3 percent, led by airplanes, motor vehicles and military equipment.16
The Fed
As anticipated, the Fed elected to raise interest rates by a quarter percentage point at its two-day meeting, which ended on December 13. The Fed also reaffirmed its plan to raise rates three more times in 2018.
The Fed also revised its economic growth projection to 2.5 percent, up from an earlier estimate of 2.1 percent in 2018.17
By the Numbers
Winter Olympics
0
20
Number of National Hockey League players that will be participating in the games
102
21
Total number of gold medals to be awarded at the games
$50 billion
23
Price paid by Russia to prepare for the Sochi winter games in 2014
1.2%
26
Portion of an Olympic gold medal that is actually gold
The content is developed from sources believed to be providing accurate information. The information in this material is not intended as tax or legal advice. Please consult legal or tax professionals for specific information regarding your individual situation. This material was developed and produced by FMG Suite to provide information on a topic that may be of interest. FMG Suite, LLC, is not affiliated with the named representative, broker-dealer, state- or SEC-registered investment advisory firm. The opinions expressed and material provided are for general information and should not be considered a solicitation for the purchase or sale of any security.
Investing involves risks, and investment decisions should be based on your own goals, time horizon and tolerance for risk. The return and principal value of investments will fluctuate as market conditions change. When sold, investments may be worth more or less than their original cost.
Any companies mentioned are for illustrative purposes only. It should not be considered a solicitation for the purchase or sale of the securities. Any investment should be consistent with your objectives, time frame and risk tolerance.
The forecasts or forward-looking statements are based on assumptions, may not materialize and are subject to revision without notice.
The market indexes discussed are unmanaged and generally considered representative of their respective markets. Individuals cannot directly invest in unmanaged indexes. Past performance does not guarantee future results.
International investments carry additional risks, which include differences in financial reporting standards, currency exchange rates, political risks unique to a specific country, foreign taxes and regulations, and the potential for illiquid markets. These factors may result in greater share price volatility.
Please consult your financial advisor for additional information.
Copyright 2018 FMG Suite.
1. The Wall Street Journal, December 31, 2017
2. Interactive Data Managed Solutions, November 30, 2017
3. FactSet Research Systems, Inc., 2017
4. Bureau of Economic Analysis, November 29, 2017
5. MSCI.com, November 30, 2017
6. MSCI.com, November 30, 2017
7. MSCI.com, November 30, 2017
8. The Wall Street Journal, December 21, 2017
9. The Wall Street Journal, December 8, 2017
10. The Wall Street Journal,December 14, 2017
11. The Wall Street Journal, December 16, 2017
12. The Wall Street Journal, December 15, 2017
13. The Wall Street Journal, December 22, 2017
14. The Wall Street Journal, December 20 , 2017
15. The Wall Street Journal, December 13, 2017
16. The Wall Street Journal, December 22, 2017
17. The Wall Street Journal, December 13, 2017
18. Olympic.org, 2017
19. Click2Houston.com, November 1, 2017
20. Time.com, September 20, 2017
21. CNN.com, December 8, 2017
22. Chicago Tribune, May 22, 2017
23. WashingtonPost.com, November 15, 2017
24. TimeAndDate.com, December 11, 2017
25. Time.com, November 1, 2017
26. WashingtonPost.com, August 12, 2016
27. MarketWatch, August 21, 2016